Roundscape Adorevia - Version 4.5 (Kaliyo, Arvus Games)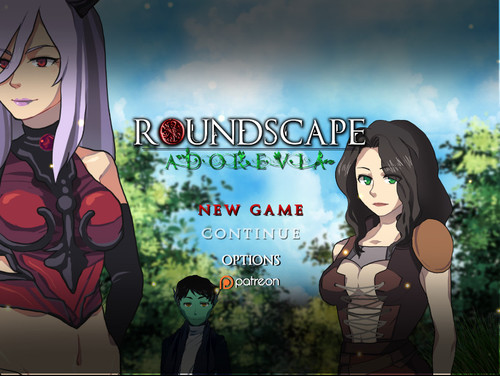 Kaliyo is creating Adult video games (18+)
NFO
Updated:
22-June-2019
Genre:
RPG,Vaginal Sex, Oral Sex, Anal Sex, Group Sex, Adventure, Big Tits, Fantasy, Combat, Patreon Game,Kaliyo,Oral, Anal, Extreme, Exhibitionism, BDSM, Futa,Shemale, MILF, Prostitution, Interracial, Bukkake, Titfuck
Censorship:
None
Developer / Publisher:
Kaliyo, Arvus Games
Platform:
PC / Windows x64
Version:
4.5 Full Build
Language:
English
Size:
3.74 GB
Overview:
So the game starts out in one of 5 ways of your choice, eventually you end up in a small town and go on a quest to prevent some evil being. You can choose your gender and there are some exclusive scenes for each gender. The world of Adorevia is one fraught with danger, but also adventure for those brave enough to seek it. Walk the lush forests, see the magnificent dwarven city-states, and help stop a terrible threat that could spell doom to countless innocents as you head out on your quest! Of course, along the way, you'll find other brave souls willing to share in your adventures, and perhaps, your bed.​
Cheat Codes:
1700 - Super Speed
1819 - Gold
2931 - Skip Combat Skill
Change-log v4.5
New Quest - Vesunna
Defend the city of Vesunna from an undead invasion! Includes four new erotic scenes! One for each gender and two for both!
New Quest - Soldier Origin Finale
Infiltrate an orc fortress by being disguised as one through Illusion magic! Will you be able to minimize causalities before Summeredge takes over it? Includes three new erotic scenes!
New Encounter
Go for a drink with Ruksana at the Summeredge Pub. Includes one new erotic scene for male player characters.
New Encounter
Take Ruksana's love for chains to a new level in the interrogation chamber. Includes one new erotic scene for both genders.
New Encounter
How about some quality time with Meredith? One new erotic scene for male player characters with Meredith at the Castle Whitemoon Inn.
Reworked Scenes
We've reworked the whole first erotic scene between Meredith and the male player character! We've also reworked the dialogue for the first erotic scene between Ruksana and the player.
Combat Variety
We've added many new skills to enemies, making combat more fun and dynamic.
Oppai Sprites
Yes, we've added bouncing parts to some character sprites. It had to be done.
Bugfixes
Ruksana's unleashed attack now deals damage as intended
Emek's Rest Epilogue during the ending now shows the proper ending you got.
The search for evidence quest is now shown as completed in the quest journal when you've actually completed it.
The Rulwe is no longer a locked companion after its companion quest
The Team Size is no longer locked at 2 after Mayla's Quest
Several new quests added to the quest journal
Several Typos and mini bugs fixed
Screen:
Roundscape_Adorevia_V45_Full_Build.part1.rar
Roundscape_Adorevia_V45_Full_Build.part2.rar
Roundscape_Adorevia_V45_Full_Build.part3.rar
Roundscape_Adorevia_V45_Full_Build.part4.rar
Roundscape_Adorevia_V45_Full_Build.part5.rar
Roundscape_Adorevia_V45_Full_Build.part1.rar
Roundscape_Adorevia_V45_Full_Build.part2.rar
Roundscape_Adorevia_V45_Full_Build.part3.rar
Roundscape_Adorevia_V45_Full_Build.part4.rar
Roundscape_Adorevia_V45_Full_Build.part5.rar