Bright Past - Version 0.25.2 (Kosmos Games) (RUS+ENG+DE)
Kosmos Games is creating Adult Games
INFO
Updated:
06-July-2019
Genre:
3DCG, Kosmos Games,Voyeurism,Sandbox, Adventure, Oral sex, Vaginal sex, Sex toys, Big ass
Censorship:
None
Developer/Publisher:
Kosmos Games
Version:
0.25.2
OS:
Windows
Language:
English - Russian-German
Size:
1.20 GB
Description:
Dear friends, the day has come! It is with great pleasure that I present you a demo of my new project. Some may consider it to be a remake of my very first game - "Bright Future", that many of you liked. The new game is called "Bright Past" and is also based on the concept of an open-world sandbox with a main storyline. However, this time we are doing it on a completely different level! In the current version you can meet the main characters, learn about their background and game setting in general.
As you can see in the screenshot, the game will take place in the modern world. The main character will be a girl. The genre of the project can be described as a sandbox with elements of the quest an RPG.​
Change-Log v0.25.2
Come visit Valerie and arrange a party.
Spend the night with Ash and her boyfriend.
Now Alex can ask Valerie to change her hair.
I changed the old scenes with Valerie and added a variant with a new hairstyle.
Now you can repeat events with Penny, Broom and in the toilet of the cafe. Dialogues and some details are logically changed.
Song writing.
Michael will give you a task to write lyrics for 3 songs. Each song has a quality score. It depends on your writing talent and the new parameter "inspiration". The system for raising this parameter is experimental. Please express your opinion.
Notepad for writing lyrics in your smartphone.
2 new orders for writing articles and 2 literary magazines for leveling skill.
New appearance Ash, Claire (administrator beauty salon) and slightly reworked Lucas.
Several random events in the subway, including masturbation to a stranger.
New backgrounds in the bus.
2 random events while working in a cafe. Alex will be able to earn extra tips and find something useful in forgotten bags.
Alex's facial cum will have a negative effect on charm, and some NPCs will respond to this with cues (WIP)
Alex can wash her hands or face in the sink in the bathroom.
New locations: a pharmacy, a toilet in a casino with a mirror and a cabin, a sex shop, a park bench.
You can buy aspirin and antidepressants in the pharmacy to deal with headaches and stress.
Alex will feel stressed after the big shocks.
You can buy a bottle of wine in the store (useful for going to Valerie.)
After several sex with women, Alex's orientation will change to bisexual.
Quest "Touching love confession" is a bit simplified.
Now Alex can watch TV.
Random event in the casino toilet.
The NPС menu and the NPС relation are removed for reconstruction.
On Sunday you can meet Barbara on the beach in a swimsuit.
One new achievement.
3 new collection cards.
Jane's number is now added to the contact list.
Laptop interface was changed.
I also fixed a lot of old bugs and shortcomings.
Perhaps something else.
Screen: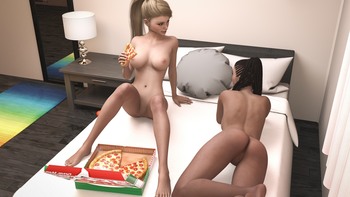 Bright_Past-Version_0.25.2_.rar
Bright_Past-Version_0.25.2_.rar